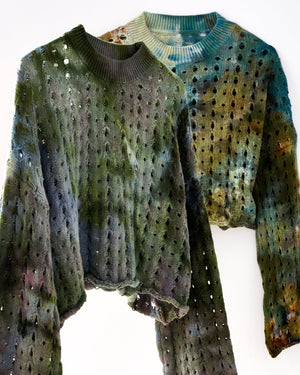 Cropped Sweater in Olive
The Cropped Sweater has a slightly oversized, cropped fit and is handcrafted from 100% Pima cotton, known for its exceptional softness and durability.
Each sweater is individually hand-dyed using low impact dyes, creating a unique and vibrant olive color. The crochet design adds a touch of sophistication and texture to the piece.
For the best care, it is recommended to hand wash this sweater and lay it flat to dry. The measurements for the length, chest, and waist are provided to ensure the perfect fit. 
Measurements taken flat
1
Length:  in
Chest:  in
Waist: 
2

Length:  in
Chest:  in
Waist: